Business Philanthropy:


HouseCheck is committed to helping victims of domestic violence.

From its founding, HouseCheck has valued the concept of giving back to the communities that we serve. As a result of this commitment, we're establishing a Foundation as an extension of our organization in order to serve others.
As a business, HouseCheck's focus is to improve the quality of life within the home by providing comprehensive, objective, impartial home inspections. Accordingly, our HouseCheck Foundation is also centered around improving the quality of life in certain homes — those that are marred by the specter of domestic violence.
We believe that the home should provide a safe haven for all. But unfortunately, that's not the case in thousands of homes across the U.S. and around the world.
Many cases of domestic violence go unreported, often because of fear of reprisal, so accurate statistics are difficult to obtain. However, the Family Violence Prevention Fund estimates that between 1.5 million and 3.9 million women are physically abused every year in the U.S. alone.¹ In 2014, the National Census of Domestic Violence Services reported that 67,646 victims were served by various domestic violence programs in the U.S. on just one day.²
Domestic violence impacts women of all ages, income levels, and educational backgrounds. In addition to physical abuse, victims often suffer from various forms of emotional trauma, including depression, anxiety, and social isolation. Abusers routinely see to it that their victims have very limited resources at their disposal, prompting those victims to feel trapped within the abusive environment with no hope of finding a way out.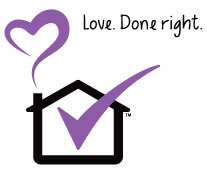 The mission of our HouseCheck Foundation is to help stop domestic violence. Through the HouseCheck Foundation, we'll team up with other organizations and individuals to build and maintain a series of HouseCheck shelters across the country where abused women, along with their children and pets, can find immediate safety and security.
The construction of a series of HouseCheck shelters is a long-term project, but needs exist right now! So, in order to have a more immediate impact on such a big problem, HouseCheck Foundation will begin its work by providing grants to existing domestic violence shelters. Starting in 2018, the HouseCheck Foundation will award a grant to at least one domestic violence shelter in every state that applies for a grant. Grant applications will be reviewed by the HouseCheck Domestic Violence Shelter Grant Committee, which will make recommendations to the HouseCheck Foundation Board of Directors. After reviewing these recommendations, the Foundation's Board of Directors will select and approve the final grant recipients. Any remaining funds will be distributed to existing domestic violence programs based on state population.
The HouseCheck Foundation will be completely committed to providing help and hope to women whose safety is threatened due to violence, and we're very pleased to be able to contribute to such a worthwhile goal. For information on how you could get involved with the HouseCheck Foundation, email us at Foundation@HouseCheck.net.
¹ http://www.vawnet.org/Assoc_Files_VAWnet/screpol.pdf
² http://nnedv.org/downloads/Census/DVCounts2014/DVCounts14_NatlSummary_Color-2.pdf